Yocan Pillar e-rig is an intelligent electronic dab rigs, which realizes convenient and quick consumption of concentrate without open flame compared with traditional hookah. It is also very convenient to carry, and the overall appearance is not as bulky as a traditional hookah. The overall structure is simple, with a filtered water glass mouthpiece added to the base of the main unit, and there are not as many complicated accessories as traditional hookahs. 183*40mm means you can put it in your backpack and go out.
How does Yocan Pillar work?
Yocan Pillar is powered by a rechargeable 1400Mah battery. The TGT coil heats the concentrate, and finally it is further filtered through a glass mouthpiece to produce a huge and smooth steam vaping experience.
How to use Yocan Pillar
Pillar has two working modes for you to choose, an intelligent automatic mode and a manual mode. You can choose the mode that suits you according to your own situation. For beginners, it is recommended to use the smart mode. Pillar has three voltage levels (3.2V, 3.7V, 4.2V) to choose from. Quickly press the ignition button twice to select the smart mode. Start working at the currently set voltage gear. The manual mode is suitable for veterans. Press and hold the ignition button to start working continuously, and the automatic protection will be turned on after 30s. In addition, there is an airflow regulating valve on the side of the atomizer, and users can adjust the speed of the airflow at will according to their own preferences.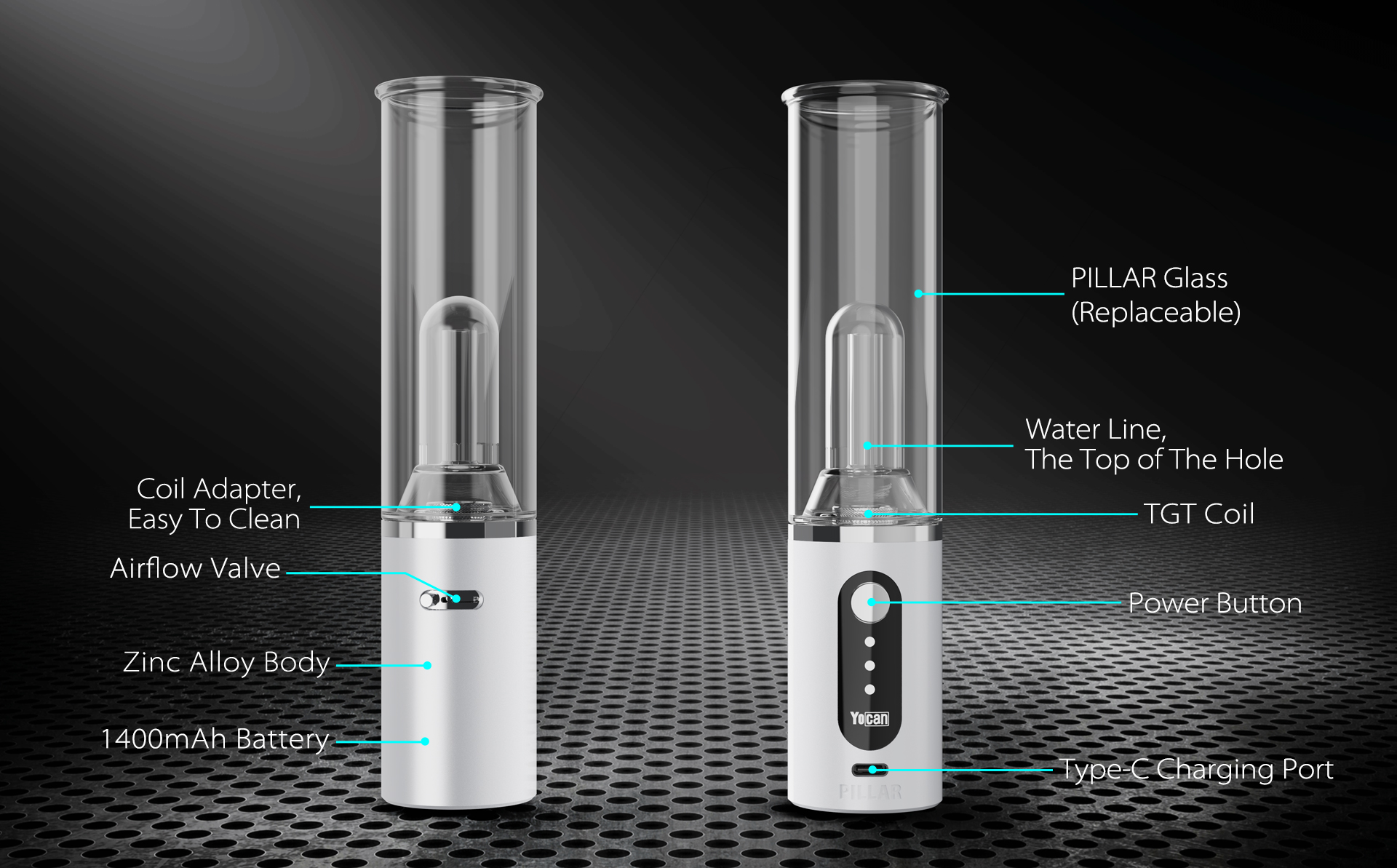 Benefits of using Yocan Pillar E-rig
Easy to use
Yocan Pillar E-rigs are very easy to use and load wax concentrate compared to traditional hookahs. When using traditional shisha, it takes constant trial and practice for novices to find the right temperature to achieve the effect of completely melting the wax concentrate. With an electric dab rigs, you can custom control the temperature to achieve just the right level, reducing the cost of trial and error.
Easy to carry
The Yocan Pillar water filtered vaporizer glass mouthpiece and the base of the atomizer body adopt a magnetic connection design. So when you need to take it out, you can easily separate the cigarette holder and base and place it in your backpack. No matter where you go, you can experience the happiness brought by Pillar at any time.
Easy to clean
When you're done using it, just wipe down the bowl of the Yocan Pillar e-rig with an alcohol swab, or soak it in alcohol for a while. As for the glass mouthpiece, because it is easy to separate, you only need to remove the mouthpiece to rinse, or you can use alcohol or soap to clean it if you want a deep cleaning. When all elements are cleaned just wait for it to air dry, or for a quick dry you can use a blow dryer. Finally, a simple reassembly is carried out, and a brand new Pillar is born again.
Excellent taste
The most important thing about the atomizer is the coil. The coil not only determines the amount of steam, but also determines the taste. Pillar employs TGT coils combining ceramic toroids with quartz XTAL rods. The concentrate can be heated efficiently, fully and evenly, and the steam produced is large and the taste is pure. Finally, some impurities are filtered out through water filtration, and you can get a more moist taste, which allows you to inhale smoothly into your throat, achieving a perfect ultimate experience.
Generally speaking, compared with traditional products, Yocan Pillar is easier to use, easy to carry when going out, and has better taste. As e-rigs become more popular, it won't be long before more concentrate pen companies hope to make a profit selling portable E-Rigs. If you are also an e-cigarette vaporizer retailer, Pillar must be your best choice to open up new markets.