Enjoy every happy time with Yocan Rega
Take your 510 oil cartridges to the next level with The Yocan Rega. It is a new atomizer battery Mod that packs a tons of features into its beautiful compact design, it is a stealth vape with small and light size, and similar with UNI box mod battery.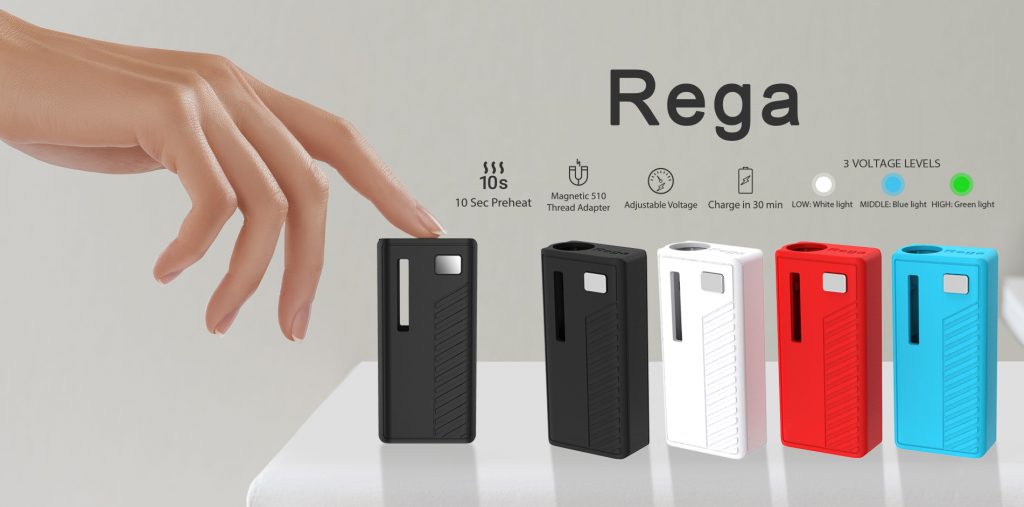 Rega Box Mod Features
Dimensions – 58mm by 28mm by 15mm
Fit Your Favorite 510 Cartridges(<11.5mm diameter)
Small and Compact Design
320mAh Battery Capacity
Preheat Mode: Click the power button 2 times
Adjustable voltage: Tap 3 times to change ( 2.7V/3.5V/4.0V) .
Short-Circuit Protection
Low Voltage Warning
Micro USB Port Charging System
Proprietary Magnetized Connection
What's Yocan Rega Box Mod Battery?
It is powered by a 320mAh battery that charges conveniently with a Micro USB cable. The Rega is compact design with on the go vaper in mind. It is thin and light, and the vapor it produces is full and satisfying.
Yocan Rega design with Preheat function
The innovative preheat function allows you to prepare your material before use, delivering you smooth and flavor vapor. Just click the power button twice to heat up your material for 10 seconds; the preheat function will turn off automatically once it's done. To deactivate preheating, simply press the power button 2 times again.
Specially For 510 Threading Oil Atomizers
The Rega Box Mod can safely and securely fit with most 510 thread oil atomizers measuring anywhere within the range of 9-11.5mm diameter, eliminating the need to hold onto multiple Mods.
The Rega features the functional adjustable voltage option with three different power levels. Provide you an option to set your device to the perfect setting, ensuring the best vaping experience based on your needs. To adjust the voltage level after switch on the device, press the power button 3 times rapidly.
Rega Mod is Easy to Use
It uses a highly compatible 510 threading adapter with magnetic connection that fit any sized 510-threaded oil atomizers. The Yocan Rega Box Mod features everything you love about vaping: ease of use, affordability, functionality, and practically.
The Rega also conveniently designed with an oil level window, so you know exactly when it's time to refill your oil.
Rega Mod Package Content
1* Rega Battery
1* 510 Thread Adapter
1* USB Cable
1* User Manual
Yocan Rega Box Mod Support
If you have any questions, please comment below. Or discuss with other Yocan rega users on Yocan forum: Forum.yocantech.com