A new round of Yocan ORBIT giveaways is running with Flippin' Loud! Yocan has been working with Flippin' Loud for years and his videos are new and unique and very specific! After trying ORBIT, Flip also said that ORBIT has a pretty good flavor! Click the link to view Flip's Yocan ORBIT Review video: Makin TORNADOS with the YOCAN ORBIT!!!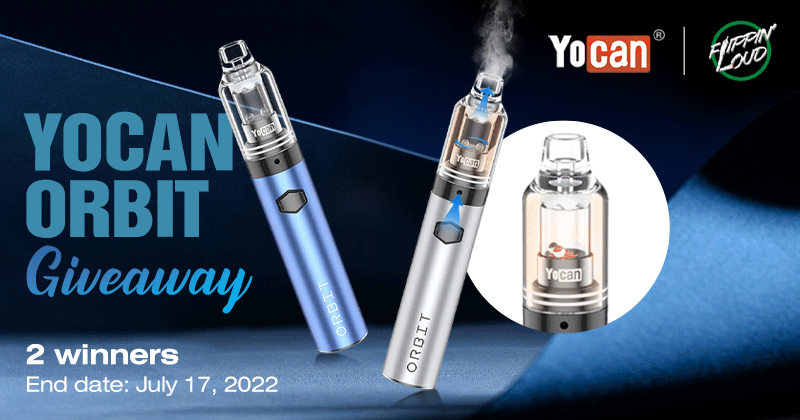 Quick Preview Of Yocan ORBIT
Terp pearls in a wax pen, Yocan ORBIT, was released in January 2022. In line with the original intention of thinking about users and avoiding the shortcomings of traditional tools, the Yocan team concentrated on developing this portable vaporizer. With a full quartz cup and top airflow system, a 1700mAh battery provides a great option for a pocket device for short trips.
Main Features Of Yocan Orbit:
Dimension: 131mm * 22mm
Material: Stainless Steel + Quartz
Battery Capacity: 1700mAh
Resistance: 0.4ohm (Quartz Balls Coil)
Charging Time: 2.5h
Voltage Level: 3.4V(White), 3.7V(Blue), 4.0V(Green)
Charging Port: Type-C
The following are the specific details and rules of the Yocan ORBIT giveaway:
2 winners.
Each winner will receive 1 Yocan ORBIT kit.
.
⚠ Notes:
1. Must be over 21!
2. End date:12:00 PM PST, July 17, 2022.
Rules to enter:
1. Follow Yocan & Flippin' Loud's social media accounts!
– Flippin' Loud social media accounts(optional):
YouTube:@Flippin' Loud
Instagram:@flippinloud
– Yocan official accounts(optional):
Instagram: @yocantech @yocan.vape
Facebook: @Yocantech
Twitter: @YocanTechnology
YouTube: Yocan Tech
2. ⚠MUST & ONLY enter this GIVEAWAY webpage to participate in the lucky draw! Simple complete those entries down below to get ahold of your chance to win!
Yocan Orbit GIVEAWAY|Yocan X Flippin' Loud

Finally, to avoid you missing out on winning notifications, please be sure to check your email after the event is over!
Any questions, please drop us a comment down below and we will get you covered.
Good luck to you all.🍀
Yocan