Yocan ARI Series, including four different items (ARI Slim, ARI MINI, ARI, ARI Plus), had been released by Yocan Tech recently. Based on successful experience in designing Yocan Lux, Yocan continues to combine different battery capacities with the function of rotary adjustment voltage, which is the original design idea to research and develop this Yocan ARI Series and provides multiple purchasing options to our customers and consumers. For this round of giveaways, notably, we will provide 10 different items of the Yocan ARI Series to our winners!
What are the Main Features of the Yocan ARI Series?
The Yocan ARI Series consists of four different items, which are Yocan ARI Slim, Yocan ARI MINI, Yocan ARI, and Yocan ARI Plus. The corresponding battery capacities are 350mAh, 400mAh, 650mAh, and 900mAh, respectively. This series uses stainless steel housing and has beautiful colors. Simply rotating the dial located at the bottom of the device, you can get the fine voltage setting. From the lowest to highest voltage setting, you can get the different working temperatures, which promotes to obtain perfect pleasure.
Here are the main functions:
*Variable voltage vape (1.8V-4.2V)
*510 thread
*Type-C Charging port
*10S Preheat
*15S Safety Cut-off
*Carts Compatibility>0.8ohm
*One Button-Activated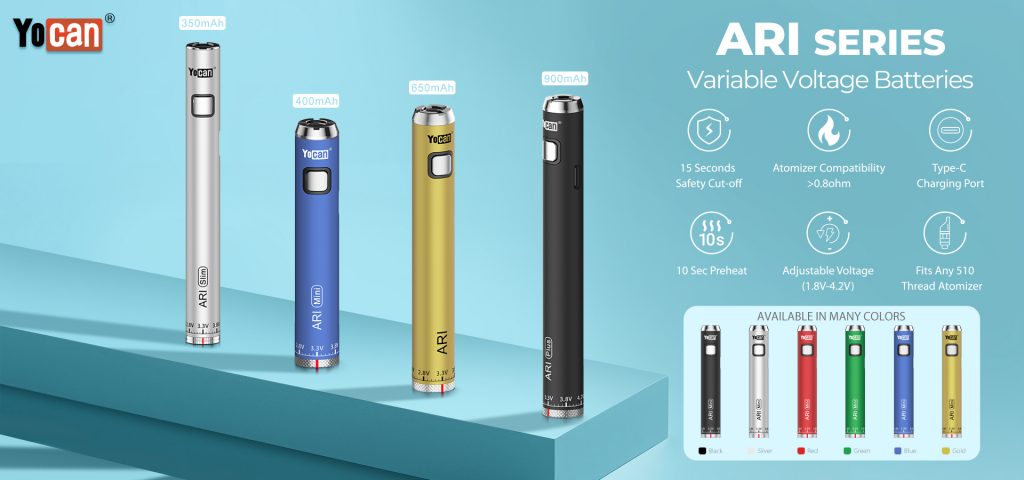 How to participate?
STEP 1: Follow Yocan SM
Must follow Yocan Social Media Accounts:
Instagram: @yocantech
Facebook: @Yocantech
Twitter: @YocanTechnology
YouTube: YocanTech
STEP 2: Complete entries
Complete those entries down below to get ahold of your chance to win!
Yocan ARI Series July Giveaway 2022

STEP 3: Getting Awards
Awards: 10pcs of Yocan ARI Series' Items
Valid date: 07-21, July 2022 – Pacific Time (US & Canada)
Finally, to avoid you missing out on winning notifications, please be sure to check your email after the event is over!
Any questions, please drop us a comment down below and we will get you covered.
Good luck.
Yocan Tech