Based on the shortcomings and advantages of the traditional vaporizer, Yocan painstakingly developed this portable wax vaporizer Yocan ORBIT from the preferences and pain points of the dabber. The e-nail of the traditional dab rig is skillfully integrated into the electronic device, which avoids the insecurity caused by the traditional flame and retains the delicacy brought by terp beads. The Yocan ORBIT is an innovative portable device with not only a coil-less quartz cup but also a top airflow cover that drives terp beads to spin quickly, a system that greatly improves atomization efficiency and retains the original flavor of the material. The quartz cups and removable glass mouthpiece make this wax pen extremely easy to clean after every dab, jumping out of the mess, and every session is so comfortable and flavorful.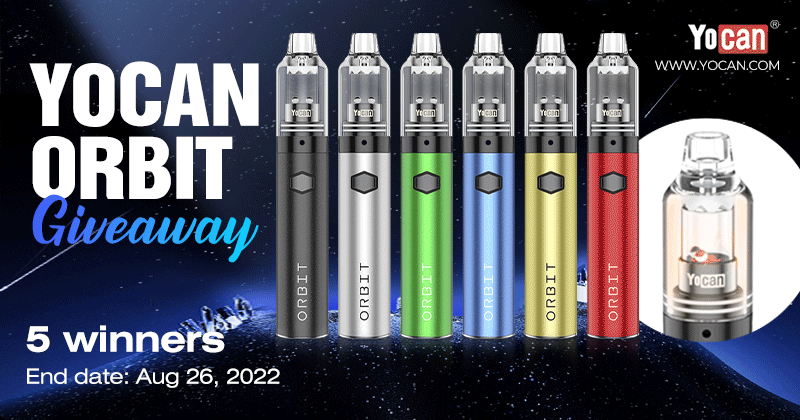 *Main Features Of Yocan Orbit:
Dimension: 131mm * 22mm
Material: Stainless Steel + Quartz
Battery Capacity: 1700mAh
Resistance: 0.4ohm (Quartz Balls Coil)
Charging Time: 2.5h
Voltage Level: 3.4V(White), 3.7V(Blue), 4.0V(Green)
Charging Port: Type-C
*What's in the box of Yocan ORBIT:
1*ORBIT Pen
2*Pick Tool
1*Silicone Mouthpiece
1*Instructions Manual
1*Type-C Cable
1*Hanging Ring
1*Lanyard
*Extra Quartz Balls
*Extra Seal Rings
The following are the specific details and rules of the Yocan ORBIT giveaway: 
5 winners.
Each winner will receive 1 Yocan Orbit kit.
⚠ Notes:
Must be over 21!

End date:12:00 PM PST, August 26, 2022.
Rules to enter:
1. Follow Yocan media accounts!
– Yocan official accounts(optional):
Instagram: @yocantech
Facebook: @Yocantech
Twitter: @YocanTechnology
YouTube: Yocan Tech
2. ⚠MUST & ONLY enter this GIVEAWAY webpage to participate in the lucky draw! Simple complete those entries down below to get ahold of your chance to win!
Yocan ORBIT Vaporizer Giveaway August 2022
Finally, to avoid you missing out on winning notifications, please be sure to check your email after the event is over!
Any questions, please drop us a comment down below and we will get you covered.
Good luck to you all.🍀
Yocan