May is ending, have you experienced the refreshing taste brought by the latest Yocan Pillar? Want to get a portable e-rig for free? Come to Yocan to actively participate in our upcoming Giveaway event in May. You'll have the chance to walk away with a Yocan Pillar e-rig and a range of vape kits for free.
What prizes does the Yocan Pillar supplier prepare?
In order to better give back to fans for their long-term support for all Yocan products. Yocan Pillar manufacturer prepared three prizes for this event: Yocan Pillar e rig, Yocan UNI Pro vape device, and Yocan Cubex vape pen.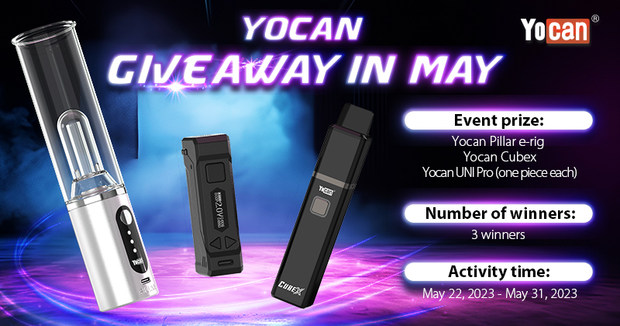 When does the Yocan Pillar giveaway start?
The event time is from May 22, 2023, to May 31, 2023, Pacific time, a total of nine days. There will be three lucky winners this time and they will receive prizes.
Yocan Pillar Electric Dab Rig Giveaway

How can I get the prize?
To get prizes like Yocan Pillar e dab rig, you need to keep completing tasks in Gleam every day to get a high score. Participants with the top three scores have a chance to win prizes for free. It is worth noting that in order to let more new users know about Yocan, we welcome new fans to participate in our activities.
Last but not least, we welcome fans to Yocan Forum to share their experience and feelings about using Yocan vape in the past. Users who are willing to share and actively participate in activities will be given priority as the lucky ones.
Note: All participants must be over 21 years old!
Come and actively participate in the event, Yocan Pillar e-rig will be delivered to your home with free shipping!