Looking for a new vape mod with built-in battery? Check out the Yocan Kodo Box Mod Battery. This is the latest compact mod battery from Yocan.
Yocan Kodo Specially For 510 Threading Oil Atomizers
Yocan has always set itself apart and try something new with the technology. The featured Kodo battery can match all the 510 threading oil atomizers on the market. One battery is enough. The Yocan Kodo Box Mod Battery is a portable palm-sized atomizer battery mod, it's a very compact and stylish vaporizer.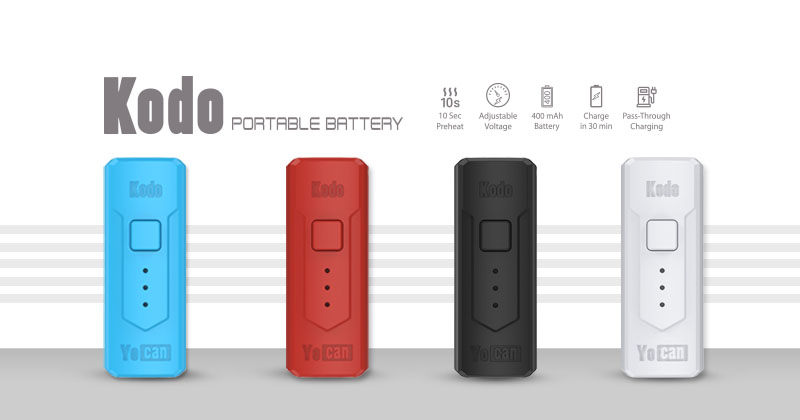 The Kodo Box Mod Battery Features
Dimensions – 52mm by 20mm by 17mm
Fit Your Favorite 510 Cartridges
Small and Compact Design
400mAh Battery Capacity
Preheat Mode: Click the power button 2 times
Adjustable voltage: Tap fire button 3 times to change 2.5V / 3.0V / 3.5V option.
( 2.5V: one green light / 3.0V: two green lights / 3.5V: three green lights).
Short-Circuit Protection: 3 green lights flashing 3 times
Low Voltage Warning: 3 green lights flashing 10 times
Micro USB Port Charging System
Proprietary Magnetized Connection
15 seconds cut-off: 3 green lights flashing 8 times
The Yocan Kodo Box Mod Battery is compact, sleek, small and easy to use. The Kodo package content include 20pcs batteries.
Yocan Kodo Box Mod Support
If you have any questions, please leave a comment below. And you also can discuss with your vape friends on Yocan Forum.