Hi Guys,
Are looking for one vape mod to fit all oil cartridges? Have a glance at Yocan UNI Twist. It takes all the best things about the UNI and enhances them. The Yocan UNI Twist Universal Portable Mod Giveaway is coming.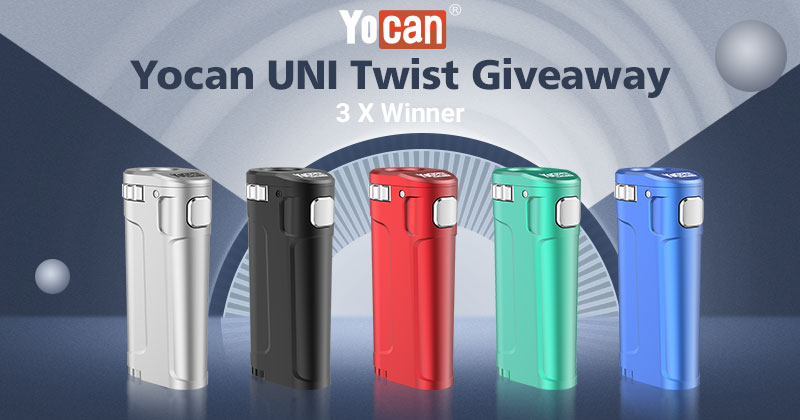 The Yocan UNI Twist used the twist-type temperature control setting in other vaporizers like the Yocan B-Smart Battery. It uses a solid quality zinc alloy shell.
The Yocan UNI Twist's USB-C charging port is located at the side of the device, close near to the power button.
Main Features:
Universal Portable Mod
Diameters: 32.5x22x67mm
Patented Box Mod
10sec preheat function
Voltage Range: 1.8V to 4.2V
small and discreet appearance
housed in solid quality Zinc Alloy shell
Fit ALL Kinds of Oil Atomizers
Built With Height Slider
Adjustable Diameter Dial Fitting Different Diameters
Built With Hanging Hole
Type-C Charging port
Discreet yet effective
Available In Many Colors
How to enter Yocan UNI Twist Giveaway?
10 ways to enter this Yocan UNI Twist giveaway. More detail refer to below.
Yocan UNI Twist Universal Portable Mod Giveaway
Any questions, please drop us a comment below, we will reply you ASAP.
Good luck.
Yocan Giveaway Team