Hey Folks,
How do you plan to spend your labor holiday?
Tanning on the beach? Exploring? Whatever it may be do it with the Yocan Vape.
Enter this contest to get your own Yocan Trio.
Do you want to have one Yocan Trio?
The Trio is a well-designed refillable 3-in-1 Pod System Vape Pen, this super convenient tiny on-the-go device. It's remarkable to see how much functionality a small device such as the Yocan Trio Vaporizer can hold. The Yocan Trio Vaporizer is a small and compact device that can vaporize concentrates, thick oils, and e-liquid blends.
Yocan Trio is so small you can practically take it anywhere. Here we go.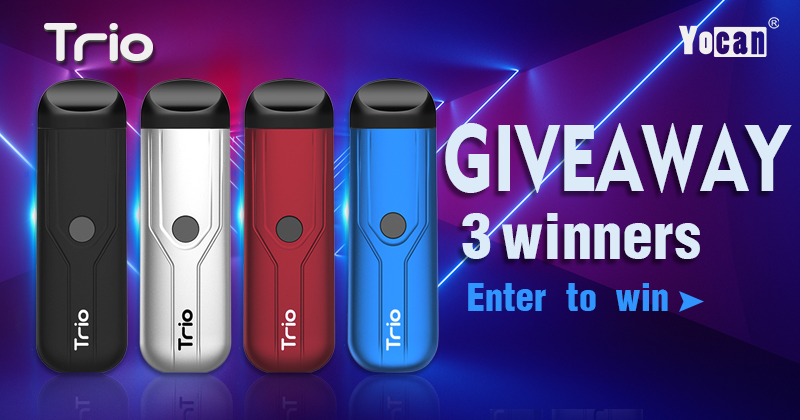 Campaign name:
Yocan Trio 3-in-1 Pod System Vape Pen Giveaway [May]
Prize:
3 X Yocan Trio
Region:
Global
Campaign period:
28th April to 5th May 2019, UTC +8
How to enter this giveaway?
Multiple ways to enter, and please share this page. 10 Ways to Enter as below:
Yocan Trio 3-in-1 Pod System Vape Pen
Note:
Must be of legal age to vape where you live.
The winner(s) was/were selected randomly from all valid entries.
Each winner won ONE (1) Yocan Trio.
You must provide a detailed address and respond to us, in order to claim the prize.
We will bear the air freight, you should bear any local costs(custom fee etc).
We (Yocan / YocanTech.com) reserve the rights to making changes to this contest and/or the rules.
Thanks for your participation.
If you have any more questions about Yocan Trio 3-in-1 Pod System Vape Pen Giveaway [May], please comment below, and you also can submit on Yocan Vaping Forum.
Regards,
Yocan Giveaway Team