Still looking for a quality portable e-rig supplier? Yocan supplies e-rig, the following content will take you to know about Yocan e-rig supplier and its new smart Pillar e-rig.
Who is the Yocan E-rig supplier?
Yocan is an atomizer company dedicated to R&D, production, processing, and wholesale, established in 2013. Ten years of wholesale experience in electric dab rigs and atomizers. It has a number of independent patents in product innovation and processing.
Why work with Yocan e-rig supplier?
Good brand image
Yocan e-rig supplier has long-term cooperation with customers in many countries around the world with its high-quality product quality and service. There are dealers and physical stores all over the world.
Yocan Cubex, Yocan UNI, UNI Pro, and other series of products are exported to countries all over the world. It has won unanimous praise from users.
High product quality
All evaporators wholesaled by Yocan e-rig suppliers have been strictly inspected during production. From the processing of raw materials to the processing process, every finished product is constantly monitored by professionals.
Short delivery time
It has a complete product line and high-end processing equipment. Independent long-term cooperative logistics provider. Realize fast delivery on the basis of ensuring high quality.
Strong innovation ability
Have professional ID engineers and market research personnel. According to the needs of the market, continuously upgrade and transform each atomizing pen.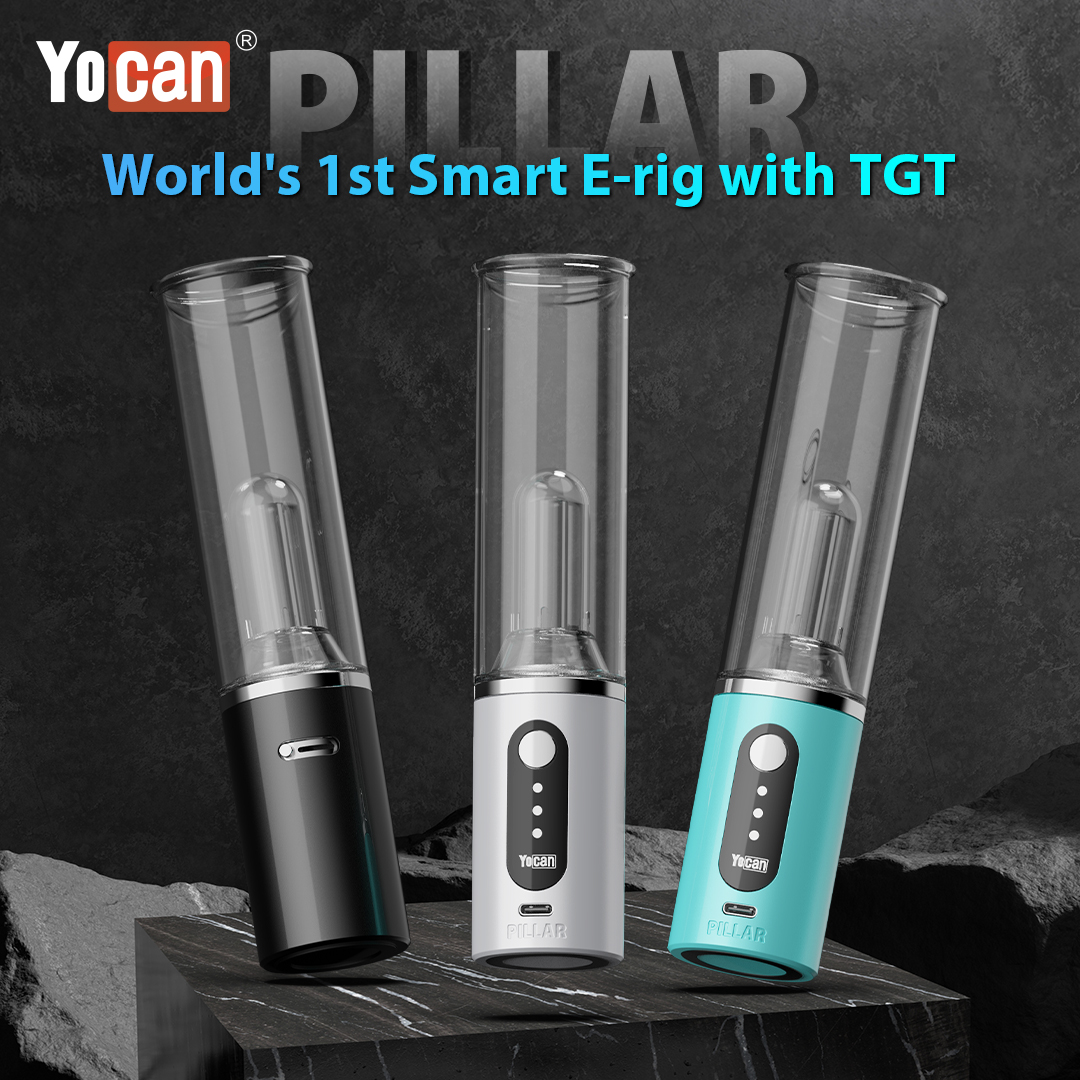 What is the market prospect of E-rig?
The emergence of E-rig suppliers has brought the consumption experience of dedicated enthusiasts to a whole new stage. Its portable and compact size and battery-operated heating function bring great convenience to consumers. And its taste is very pure through the filtration of water, which is one of the reasons why electric dabbers are becoming more and more popular.
What are the advantages of the Yocan Pillar smart e-rig?
Long service life
This smart portable water-filtered vaporizer comes with two TGT coils, which consumers can replace according to their usage. The service life of E-rig is also one of the important factors that consumers consider when purchasing. So if you want wholesale electric dab rigs,you can seriously consider Yocan Pillar e-rig suppliers.
Fashionable appearance
Yocan Pillar e-rig suppliers offer a wider selection of mini e-rigs than any other brand. There are five colors to choose from instead of a single black. The zinc alloy body also makes the whole product look more refined. This look and trendy color will be very popular with the younger crowd.
Long-lasting
This handheld electronic dab rig can be charged in two hours. After fully charged smoking according to 30 seconds puff calculation, you can continuously smoke about 25 puffs.
The above introduction to Pillar is only part of it, and it will be displayed in more detail on the website page. If you like this product, please contact Yocan pillar e-rig supplier as soon as possible to cooperate. We provide 24-hour online service to provide you with the best quality quotation. Looking forward to your consultation.