Hi Guys, this Hive 2.0 Box Mod Review from yocan partner, and we have re-edit part.
Thanks @vapevetstore again.
If you have any question about Yocan Hive 2.0, please don't hesitate to ask us.
Or just submit your question on Yocan Vaping Forum(YVF).
vaping on.
Is the Yocan Hive 2.0 Box Mod the Best Option?

These are the two main styles of portable vapes and many users prefer one style over the other. Box mods like the Hive 2.0 are nice for those users that just want one vaporizer as they often can be used with multiple atomizers. Secondly, box mods often have variable voltage settings and are typically more powerful than vape pens. Lastly, box mod vape advocates often prefer the shape of a box mod and is fits securely in your palm.
The Hive 2.0 is an excellent vaporizer for those looking for a powerful vape designed for liquids, oils and concentrates like Concentrate. It's easy to use, compact and its variable voltage allows you to customize the vapor to your personal preference. It can be used for discreet vaping as it easily slides into your pocket and fits nicely in the palm of your hand. The magnetic atomizer connector allows easy swapping between e-juice and concentrates without having to mess around to get a solid connection. Additionally, the indicator lights are multi-functional allowing users to easily see what setting their vaporizer is on, how charged the battery is and when a charge is required. Finally, the Hive 2.0 features a window to easily see if your cartridge is running low. It's affordable yet well-made, just like the other vapes in Yocan's product line. Overall, the Yocan Hive 2.0 is an excellent multi-functional portable vape.
On the other hand, vape pen proponents prefer the sleek e-cig design of the pen, like Yocan Evolve Plus XL. They take up even less space in your pocket and fit literally anywhere. However, vape pens usually don't provide as much power as box mods and often only take one type of atomizer. Depending on how you use a vaporizer, you might prefer one over the other. If you are looking for a powerful, compact, flexible vaporizer, a box mod like the Hive 2.0 is right up your alley.
Vaping 101: Yocan Hive 2.0 Box Mod Instructions
Yocan Vapes are known for their high-quality, yet affordable line of vaporizers. The Hive 2.0 is no different. Designed for oil and concentrates, the Hive 2.0 box mod is compact and portable. This vape mod is also quite versatile compared to the competition. It comes with a concentrate atomizer cartridge so you can vape your favorite concentrates, in addition to e-juices and oils.
The Hive 2.0 is a variable voltage vaporizer. This gives the user control over the power of the vape, allowing you to fine-tune your vaping. This is especially helpful when using different concentrates as sometimes you want a lower or higher temperature. This box mod also features a magnetic connector which ensures a strong connection, making it easy to use even if you're brand new to vaping. It also comes in five beautiful colors so there's a Hive 2.0 for everyone. And just like all of Yocan's vaporizers, the Hive 2.0 is affordable without sacrificing quality. Finally, as atomizers need to be replaced every couple months, you want a name you can trust. Yocan is known in the vaporizer industry as a quality-focused company so you can be sure that replacement atomizers will be available for quite some time. Let's take a look at some of the Hive 2.0's best features.
Yocan Hive 2.0 Box Mod Features

Dimensions: 29 x 70mm ( 29 x 83mm with mouthpiece)
Colors: Silver, Black, Gold, Red, Blue
Battery Capacity: 650 mAh
Atomizer: Interchangeable oil and concentrate atomizers
Voltage: Variable Voltage (3.4V, 3.9V, 4.2V)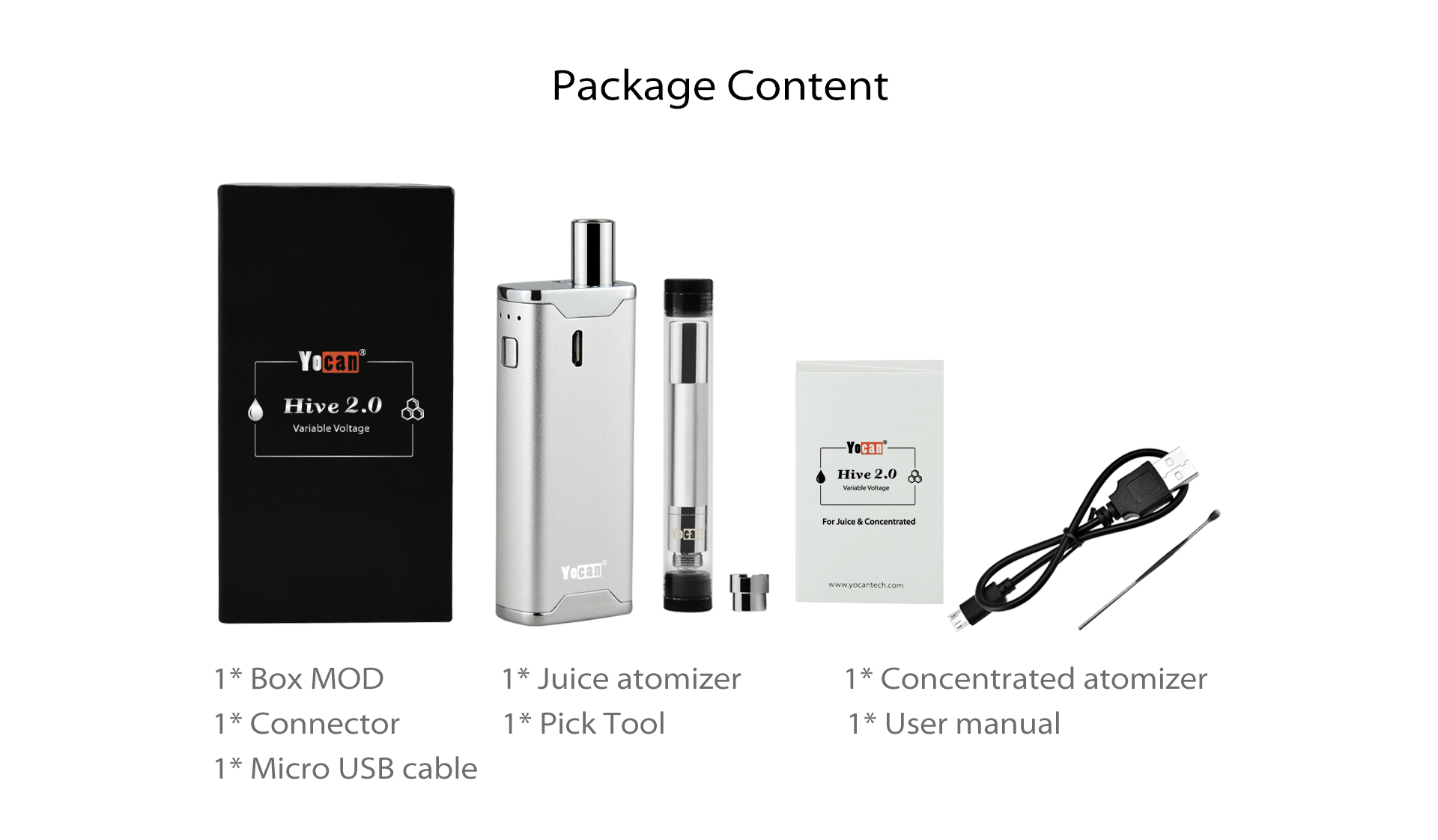 Package Content of Yocan Hive 2.0 Box Mod
Box Mod Vape Battery
Magnetic Connector
Concentrate Atomizer
Yocan Oil Cartridge
Concentrate Tool
Micro-USB Charger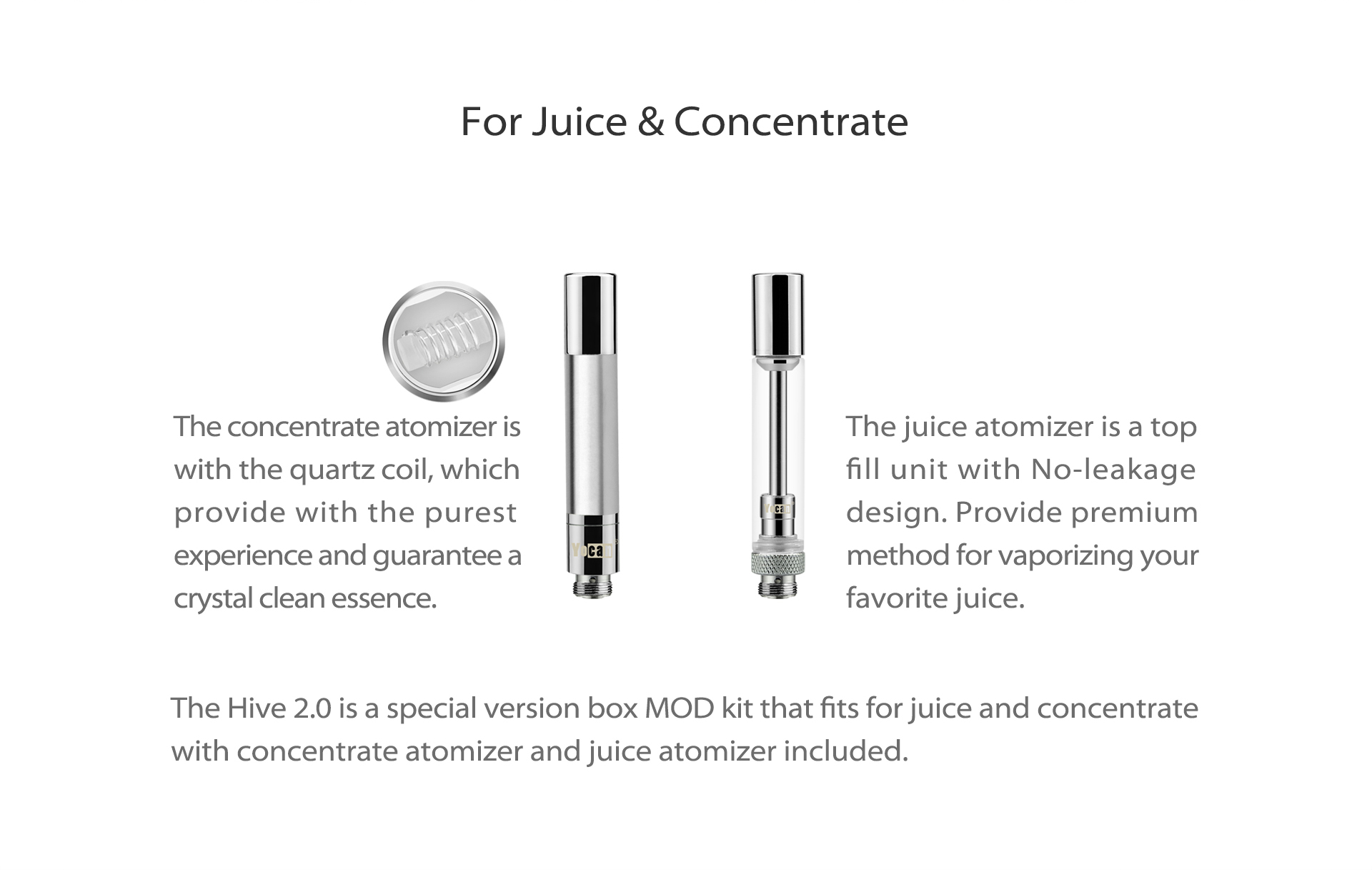 The Hive 2.0 provide three voltage settings
One of the best features of the Hive 2.0 is its variable voltage settings. For ease of use, it has three settings. The lowest setting (3.4 Volts) is a great place to start for new users but is also a popular setting for those who just want a nice, smooth vapor. The middle setting (3.9 Volts) provides nice, thick vape hits without being too harsh. However, if you really want to get massive rips or have a vape competition with some friends, crank it up to the highest setting (4.2 Volts) and get ready for some real vaping power. Right above the power button, there are three indicator lights that show you the current voltage setting. To adjust the voltage, just press the power button three times once the Hive 2.0 is switched on. The indicator lights are pretty straightforward – one blue light is low, two blue lights is medium and all three is high.
The Hive 2.0 comes with two interchangeable atomizers
The first is the standard oil cartridge which can be filled with any liquid, oil or e-juice. One benefit of the refillable oil cartridge is that you can make your own unique oil blends, perfect for those who like to experiment. In addition to the oil cartridge, Yocan includes a concentrate atomizer. This makes the Hive 2.0 perfect for those looking for a single pen that can vape concentrate, oils, e-juice and more. To make the Hive 2.0 even sweeter, it has a magnetic connector that can connect to either atomizer and other 510 oil cartridges you would buy in a dispensary, making swapping atomizers super easy. We'll get into how this works next.
The Hive couldn't be easier to use due to its magnetic atomizer connector. Just make sure the connector is attached to the bottom of either 510 threaded atomizer and you can drop it into the Hive 2.0 effortlessly — no need to check for a strong connection as the magnetic connector will ensure a perfect connection every time.
Vaping 101: How to Charging Yocan Hive 2.0 Box Mod?
The three indicator lights will flash blue 10 times when the battery is low
Plug the USB charger into the USB port on the Hive 2.0
Plug the other end of the USB charger into a power outlet or computer
The indicator lights will blink in a loop when the Hive 2.0 is charging
When the battery reaches 35% the first light will stay lit and the other lights will continue to blink
When the battery reaches 70%, both the first and second lights will stay on
Finally, the Hive 2.0 will let you know it is fully charged by flashing all three indicator lights eight times and then the lights will turn off
How to loading Yocan Hive 2.0 Box Mod Oil Cartridge?
First, unscrew the mouthpiece
Using a syringe or e-juice refill bottle, carefully fill the cartridge by holding the syringe or bottle at an angle against the side of the glass as you squeeze your refill into the cartridge
Tip: Don't fill more than 0.8ml
Replace the mouthpiece
Related post: Vaping 101: How to use Yocan Hive 2.0 ?
How to loading Yocan Hive 2.0 Box Mod Concentrate Cartridge?
Unscrew the atomizer tube
Use a concnetrate tool to place your concentrates directly onto the quartz coil
Screw the atomizer tube back on and insert the atomizer back into the Hive 2.0
How to Hitting/vaping Yocan Hive 2.0 Box Mod?
Once loaded, click the power button 5 times quickly to turn the Hive 2.0 on
If you would like to adjust the voltage, click the power button 3 times quickly
One blue light indicates the Hive 2.0 is set to a low voltage (3.4V), two lights indicate medium voltage (3.9V) and three indicates high voltage (4.2V)
After you've set the voltage, just hold down the power button and take a long, smooth pull to use your Hive 2.0
When the vapor gets thin and wispy, you need to refill the cartridge
How to maintenance/cleaning Yocan Hive 2.0 Box Mod Oil Cartridge?
The Hive 2.0 doesn't need too much maintenance, however, regular cleaning will ensure the best flavor and maximum life of your device. Use 95% or higher isopropyl alcohol to prevent a build-up of sticky residues. The best method is putting a small amount of alcohol on a cloth and rubbing lightly to remove the residue.
You will also need to replace the atomizers from time to time. This varies based on use but atomizers typically last about two months. You can easily find replacement atomizers at a local vape shop or you can order them from us at the Vape Vet Store. If your vape is still working well, but you notice the taste is a bit off, you can always change the atomizer sooner to get the best flavor.
Source: YOCAN HIVE 2.0 IS THE SMALLEST YOCAN VAPE FOR OIL AND Concentrate