Ever wanted a device that can serve all your smoke needs?
The time is now! Introducing the Yocan Groote giveaway contest!
The Yocan Groote Box Mod can safely and securely fit with most 510 thread oil atomizers.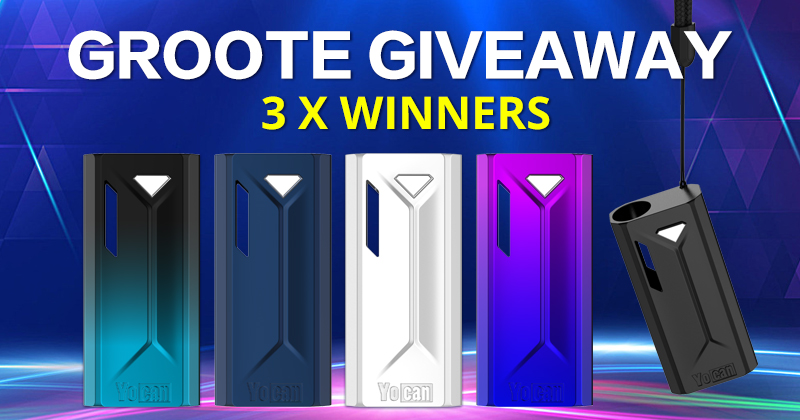 Groote Features:
Dimensions – 60mm by 28mm by 14mm
Fit Your Favorite 510 Cartridges (diameter dimension <11.5MM)
Small and Compact Design
Oil Level Window
Advanced Futuristic Design
350mAh Battery Capacity
10 second Preheat Mode: Click the power button 2 times
Adjustable Voltage Options: Tap fire button 3 times to change 2.5V / 3.0V / 3.5V option. ( 2.5V – white light / 3.0V – blue lights / 3.5V – green lights)
Short-Circuit Protection: red lights flashing 3 times
No cartridge: white light flashing 3 times
Low Voltage Warning: red lights flashing- Micro USB Port Charging System
Proprietary Magnetized Connection
Hanging Hole for Lanyard
With functionality for oil cartridges, the Groote is the new convenient way to smoke your all your favorite products.
This vaporizer features 3 temperature settings (2.5V, 3.0V, 3.5V) and a 15 second preheat mode option. With its magnetic connection to the device. Groote mod accepts cartridges from 9 mm to 11.5 mm allowing you to enjoy a wide variety of cartridges on the market.
Additional Yocan resources to get free support from us
If you'd like more information about this Yocan topic, check out one of our other guides. We have everything from a comprehensive vaporizer guide to information about vape for specific troubleshooting.
Yocan Groote Box Mod Giveaway 1st Round of Aug