Yocan Stix 2.0 and Orbit, the latest products launched by Yocan Tech, celebrate this special time with our users!
420 is a great time for vapers to celebrate this commemoration day. When the time date back to the 1970s, a group of five high school athletes gathered together at 4:20 to seek a mysterious plant in the woods near their school. But nowadays it is a sign, a culture, and a lifestyle to vape this magical plant. Today is a good time to celebrate with you all. Here is the event to achieve your 420 gifts!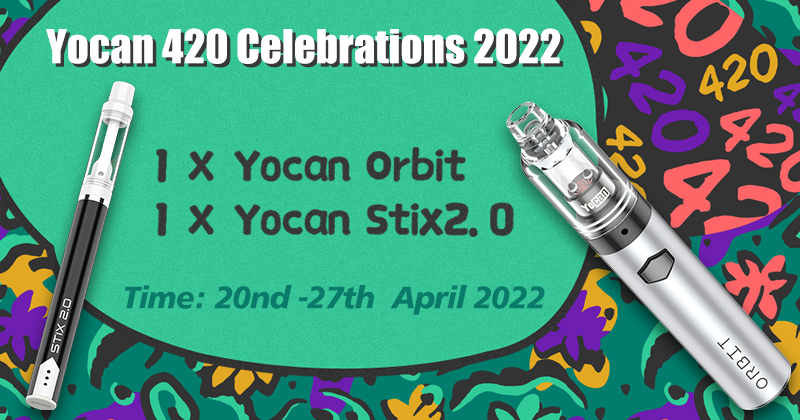 Win your Awards
Award1: Yocan Stix 2.0.
Yocan Stix 2.0 is a buttonless pen battery with a draw-activation firing mechanism and sensor control operation system.
Award2: Yocan Orbit
Yocan Orbit is a portable pen for concentrates, features a coil-less quartz cup at the helm, a Top Vertex Airflow System and two Quartz Balls to depict the ultimate aesthetics of vapor while transmitting even heating.
Event Rules:
Must be over 21!

2 winners

End date: April 27, 2022, Pacific Time (US & Canada)
If you want to update your battery or try Yocan's latest device, simply complete those entries down below to get ahold of your chance to win!
Tips: The more entries you submit, the higher your chances of winning!
Yocan 420 Celebrations 2022

Finally, to avoid you missing out on winning notifications, please be sure to check your email after the event is over!
Any questions, please drop us a comment down below and we will get you covered.
Good luck to you all🍀.
Yocan Tech