Yocan Explore
is a 2 in 1 vaporizer kit for Tobacco and Concentrate. Many people asked how to use the Explore,here are the details.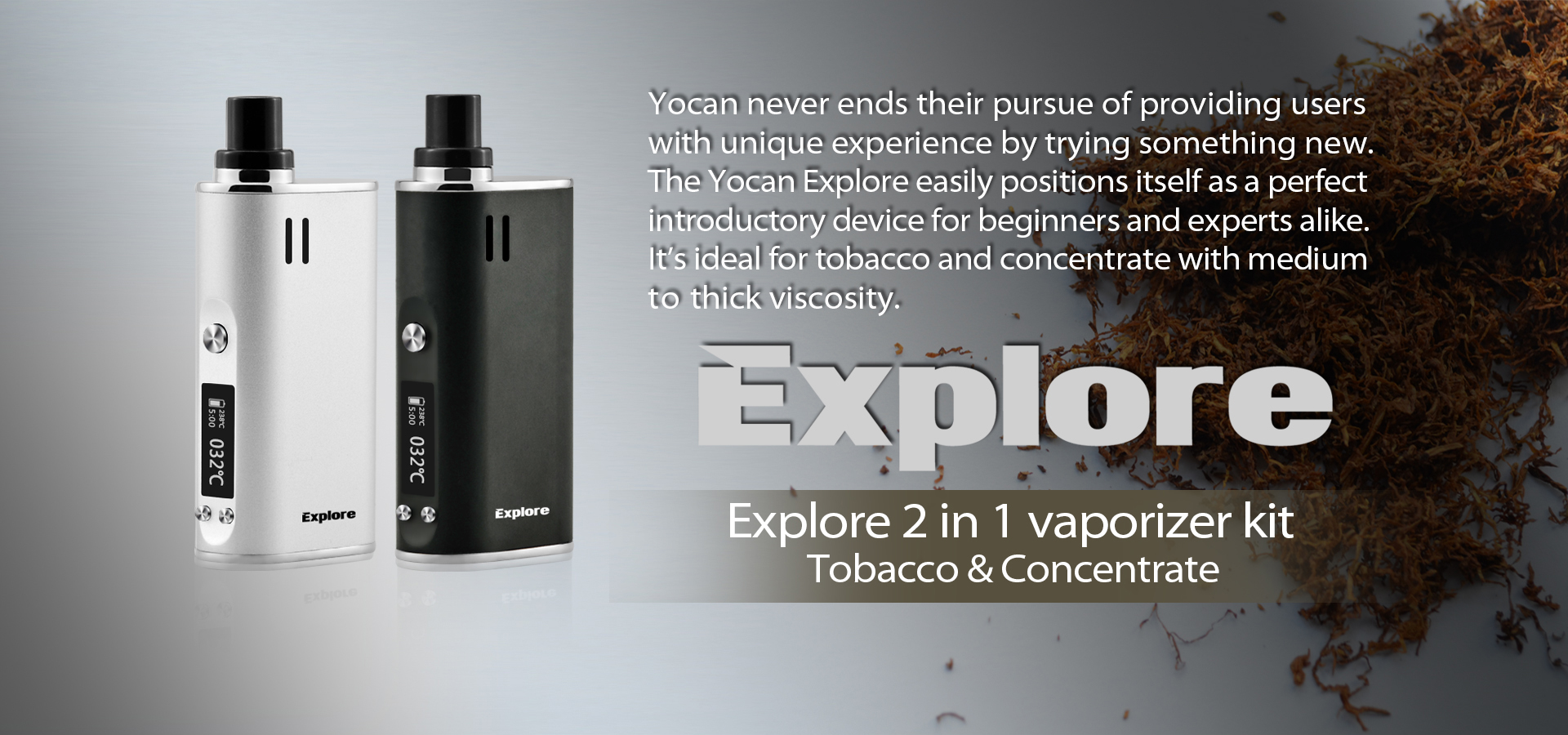 Charge your device
Yocan Explore 2 in 1 vaporizer uses a 2600mAh high rate 18650 battery. Supporting 5.0V 1.0A charging. If your device flashes 6 times,it means you need to charge it.When it's charging,the battery indicator light will scroll up,and it needs 3 hours to full charge your device. (Do Not use any plug over 1.0A.)
Load your device with Tobacco
Remove the mouthpiece,and fill the heating chamber with your tobacco,then put the mouthpiece back to the heating chamber. It's better to rotate the mouthpiece to make sure the stir pin fully stir your material. Load Explore with Concentrate You just need to remove the mouthpiece,screw off the concentrated coil from the mouthpiece,use you dab tool to fill the concentrated coil,then screw the concentrated coil back on to the mouthpiece,place the mouthpiece back to the heating chamber. Done!
How to get it work?
Click the power button 5 times speedy to turn on your Explore,then the LCD displays "Yocan" at standby mode,temperature will show 200F (default setting).You can press the left (-) or right (+) button to set your desired temperature to fit your taste.
Press and hold the power button for 3 seconds to heat up,the current temperature will flash,once desired temperature reached,the temperature icon will stop flashing and your Explore is ready to use. Of course you can adjust the temperature whilst vaping to get your desired vapor.
2 ways to change the temperature
Another thing you should know is,there are 2 ways to changing the temperature by 1 degree or 10 degrees. 300F for example,press the right botton (+),the temperature will incresase by 1 Fahrenheit/Celsius (300,301,302 and so on). But if press and hold the right button,the temperature will faster increase by 10 Fahrenheit/Celsius (300,310,320 and so on),very smart,right ?
Then 5 times speedy to turn off the Explore after use.
Clear now ? If you still have question please feel free to contact us.
Buy Yocan Explore Now >>>