In terms of the Yocan Rex Enail, this article wants to highlight some important features to guide our end users. It draws on our successful design and manufacturing experience of the Yocan Torch but expands further. Overall, the Yocan Rex is another popular Enail in the market and has been a pursuit of concentrate vapers.
Review: Yocan Rex
How it operates
As you can see, the Yocan Rex has a power button, type-C charging port, 1400mAh battery, Quartz Triple Coil (QTC), airflow valve, male/female attachment, and a silicone cover. Outfitted with a single button is easy to operate. Firstly, unscrew the coil and put material into the coil. Then screw the coil back on. Please notice do not stab the heating elements in this process. Secondly, by simply pressing the power button at the top of the device or bottom of the battery (relying on how you look at it) 5 times quickly, white light flashes 5 times the device is on standby. After that, you can attach the device to your glass (fits 14mm & 18mm ground glass joints) with the Male/Female attachment. To start vaping, press the power button with a long click until the light is on, then you can inhale. Conversely, press the power button with another 1-quick click then the light is out, switching off the battery. So simple!
Here are the pictures to see the coil clearly:
Adjustable Temperatures = Multiple Vaping Choices!
The Yocan Rex can provide adjustable voltages, enabling you to get the best vaping temperature! To change voltage settings, just click the power button 3 times, continue this operation to get another desired voltage setting, simply easy as always! Besides, the light colour tells you the current-voltage choice clearly. Low=White (3.2V), Medium=Blue (3.7V), High=Green (4.2V).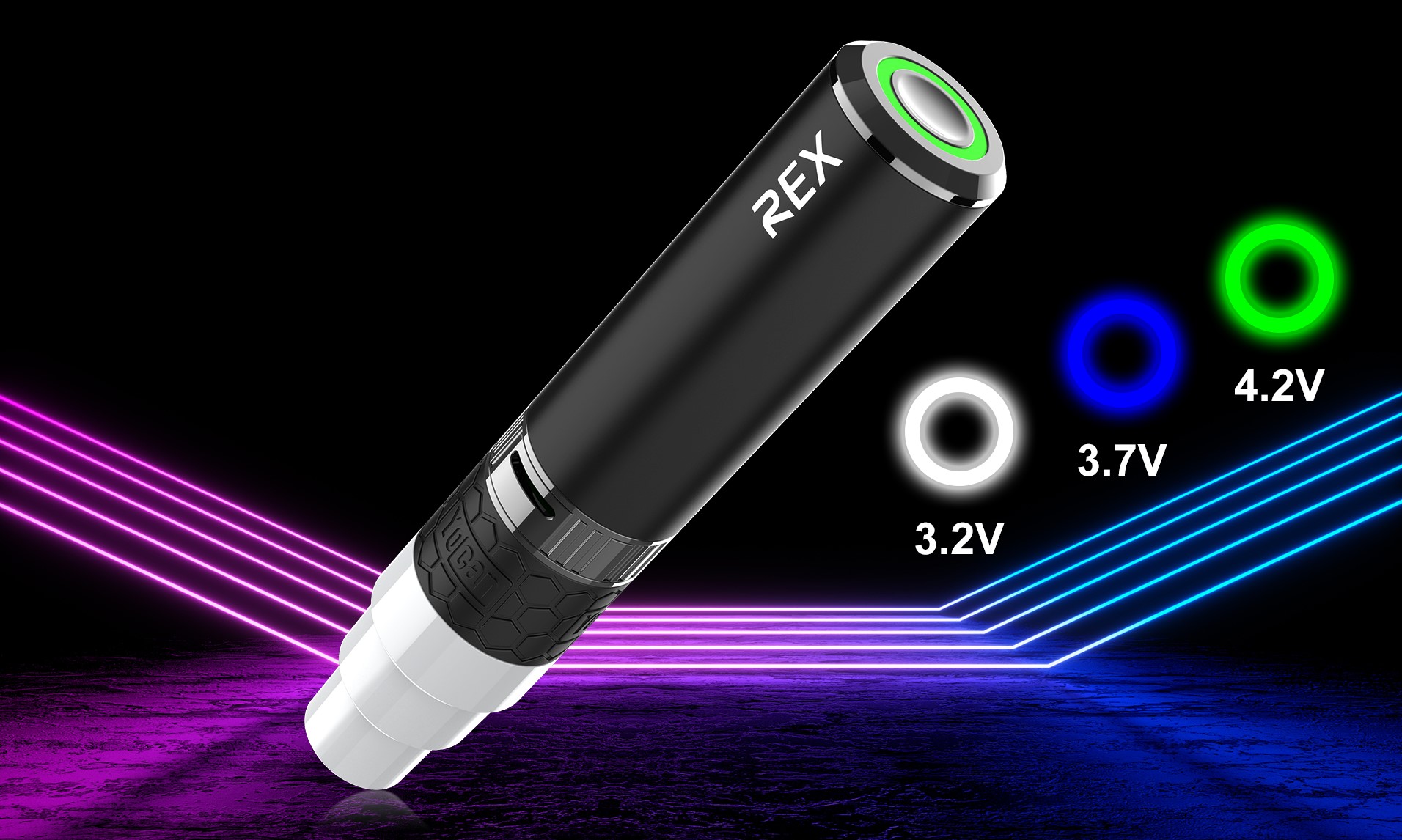 A Super-Power battery = Saving your time!
Can you believe, the Yocan Rex builts in a 1400mAh battery, providing adequate power for your on-the-go? Of course! Notably, it has a Type-C charging port rather than micro-USB. You can save your charging time greatly, therefore, making your journey more assured, pleasant and exciting! Here is to see how reviewers say: "With a 1400mah, it will last you quite some time before you have to recharge it and it uses a C charging port!"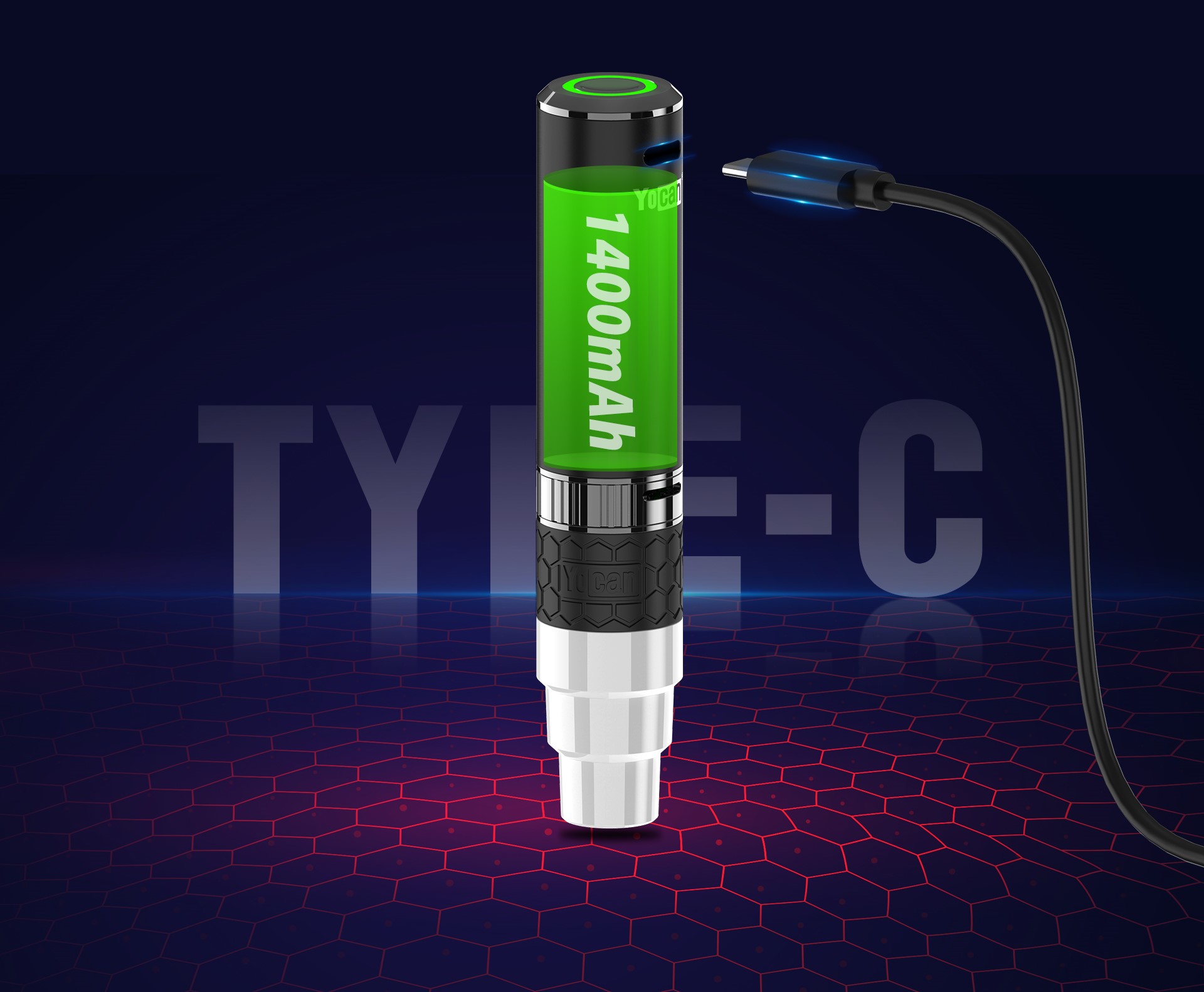 Vapour Quality = Huge Clouds and delicious flavour
Based on the feedback from some reviewers, generally speaking, the Yocan Rex's vapour volume is incredible and good-taste! For example, Val reviewed and said that: "Crisp, clear, highly pronounced vapour flavour (very important) and Huge Clouds (not as important but super fun); Full effects of the product straight to the brain".  Or, another reviewer, Kristina said that: "Fully functional and releases a nice amount of vapour. The flavour is spot on and I love that it fits almost any glass you own!". Besides, Kaptain replied to us and said "I tried the first settings (3.2V) first. I got huge clouds. Smooth hits and very delicious". Therefore, combining the vapour volume with flavour, the Yocan Rex won't let you down!
Ease of Use or not?
The short answer is yes. Kaptain also explained that "Very easy to load. You get a huge chamber to put your concentrates in. Easily filled, and just as easily cleanable…. Thanks to the reversible adapter, it will fit any bong out there!" Given the device has a male & female attachment, don't worry about the types of your glass at all, it fits them without any problems!
Summary
In conclusion, the Yocan Rex is a great functioning and very well made device. Discreet, easy-cleanable, quick-charging, and great vapour quality! Most importantly, the retail guide price on yocanonline.com is just $49.99. It is a highly recommended concentrate Enail device! Visit yocan.com/ to get more types of vaporizers and go through yocanonline.com to check the latest prices. Chop-chop!